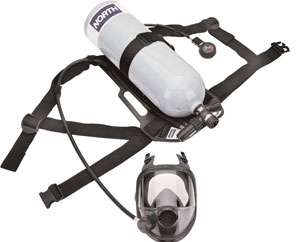 North Frontier ™
Series Self-Contained Breathing Apparatus
NIOSH approved North Frontier™ Series are low cost and worry free units designed specifically for use in non-fire emergency situations, industrial safety, egress from a contaminated area, or for clean up of chemical/toxic spills and accidents. It is an self-contained, open circuit, compressed-air breathing apparatus (SCBA) consisting of a harness assembly with first stage reducer, pressure gauge & whistle, a cylinder, demand valve and a tight fitting facepiece. During use a positive pressure is maintained within the facepiece preventing any inward leakage of contaminated air..
Features

Benefits

Hard coated polycarbonate lens
High impact eye protection Scratch Resistant for longer life
200 degree field of vision
Wide viewing area for safer use Anti-claustrophobic
Lightweight
Comfortable, reduces user fatigue
2 overlapping sizes
Reduces inventory
Oral/nasal cup standard
Limits re-breathing of exhaled air (CO2) so the user does not tire quickly
Four point headstrap
Keeps the facepiece secure without interfering with hard hats or other safety helmets
Features

Benefits

Smallest demand valve on the market
Fitting into tight spots is no problem
Lightweight
Will not pull down on facepiece
Side mounted
Out of the way, will not interfere with your line of vision
Features

Benefits

Chest Mounted Pressure Gauge Waterproof Luminous dial
Easy access fro quick & easy check Works in all environments, including Decon showers Easy to read, even in limited light
Simple, chest mounted whistle air alarm.
Fool proof, easy to hear, even in noisy environments (min 90 dB)
Features

Benefits

Composite backplate Rugged Lightweight Ergonomic design
Holds up to the harshest work environments Comfortable, even during long periods of use
Nylon harness

High chemical resistance Economically priced
Features

Benefits

Simple piston design
Less complicated, less moving parts
No adjustments required
No guessing or worry about getting the right setting
Automatic, self seating pressure relief valve
Protects downstream low pressure components
Specifications
For Specifications, please refer to the Frontier Series Technical Data Sheet.
North products are covered by and subject to the terms and conditions of the North Safety Products Limited Warranty. Currently listed as 3 years form date of shipment from North.
Documents Available for Download (click for complete listing)