Haloguard I/IR

Most Sensitive (1ppm) & Selective Photoacoustic
Infrared Monitoring with Split Architecture System Design. 24 hour Refrigerant Leak Detection & Notification.
The HALOGUARD® IR combines the HALOGUARD Microprocessor based controller and a highly selective andsensitive remote infrared module to provide the most
advanced system for detecting the presence of halocarbons.
The HALOGUARD® controller monitors the separate IR module in a remote location and provides both local and remote notification when gas concentration reaches preset
alarm levels.
Alarm relays and analog outputs are designed to activate remote devices or to interface with an energy management (EMS) or building automation (BMS) system.

To find out more, contact Thermal Gas Systems today.

Simple installation
Easy field calibration
Up to 1000 ft. transmission distance to remote module
Dual alarm capability
Alarm 1: 10 ppm - 100% scale
Alarm 2: 10 ppm - 100% scale
Off-scale alarm
LCD shows PPM Concentration, Alarm, Test, Reset,
Sensor Fault Diagnostics and Low Battery
Three flashing alarm LED's
Sensor fault LED
Power on/off LED
Four alarm relays for ventilation, dialer or remote notification
Analog output for BAS/EMS interface or data logging
Alarm Test and Reset / Silence push buttons
Rugged plastic enclosure
Dependable, solid-state electronics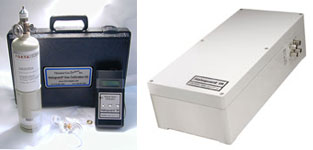 Options & Accessories
2, 4 or 8 channel scanner
Remote IR module
Oxygen depletion sensor
Amber strobe light alarm
Remote strobe light &horn alarms
Gas calibration kit
NEMA 4/12 enclosure
Specifications:
Electrical Supply
115-230v, 50-60 Hz
Output Signal
Std: 4x3A, dry contact relay
Opt: 0-5VDC, 4-20mA analog
Sensitivity
1 ppm
Resolution
1 ppm
Range
0-1000 ppm most refrigerants
Response Time
<1 minute
Clearing Time
<3 minutes
Operating Conditions:
Sensor
400F to +1200F non-condensing

Controller
00F to 1200F non-condensing
Enclosures:
IR Module
NEMA 4/12/13 design
Controller
NEMA 4/12/13 design
Weight:
IR Module
15 lbs
Controller
4 lbs
HALOGUARD® I/IR is guaranteed for one year from the date of shipment. Any device found defective in that period will
be repaired or replaced free of charge. Read terms and conditions of sale for complete warranty information.
Documents Available for Download (click for complete listing)